---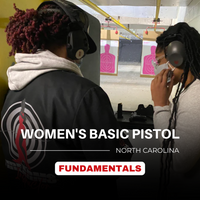 Beginner with a Professional Trainer.
I am new to the basics of handling a gun and needed a very experienced trainer. I looked on various websites and came across "Women with a Weapon" and signed up for a class. I cannot say enough good things about Latoya, the instructor. You will receive step by step guidance, hands on training and she is not critical of where you are in handling a gun. She works with you to achieve safe handling of a firearm. After experiencing the beginning training with Latoya, I will only work with her for more training with firearms.
Everyone in the class felt the same way, even those that already were carrying guns.
I am sure once you work with Latoya you will feel the same.
Great Class
The class was an amazing I learned so much. I never shot a gun before, but after leaving this class I felt I had more confidence. LaToya was an amazing teacher and I will definitely be attending a shoot with us in the future for more practice. Definitely worth it ladies so go ahead a purchase the class.